Data Center
Banking on Data – Securely and Reliably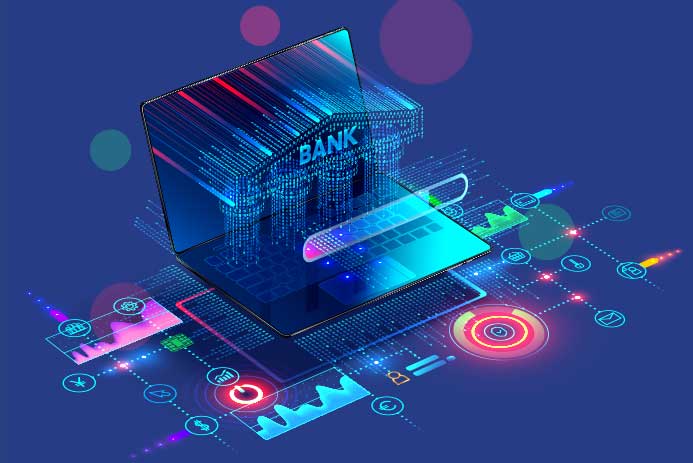 Digital payments and online commerce have been on the rise for many years; however, with the recent pandemic, this has only fast-tracked. With the increase in transactions, there is an increase in the data. Along with conventional banks, there are neo banks, fintech companies, and payment banks joining the ecosystem. With so many stakeholders involved, and enormous data generated, the Reserve Bank of India in 2018 came with a circular that required the storage of payment system data to be in the country. Additionally, the central government has drafted the personal data protection policy to protect consumers' interests and safeguard their personal data.
These data regulations provide privileges to customers; however, at the same time, banks and financial institutions need to adhere to more regulatory obligations. Especially, International banks that process the payments data in their country of origin or at data centers that are out of India. While the storage or processing of personal and sensitive data can be done out of India, a mirror copy of the same must be maintained here in India. Additionally, there needs more clarity on what constitutes critical personal data. And this data, labelled as critical and personal, cannot be processed or stored outside India.
If data is the new oil, data centers are the bunkers that secure that oil
With data consumption on the rise, India is witnessing a surge in investments in data centers. While these investments depict the interest of players in the market, the actual realisation of these data centers will take several years, if not many.
So, can International banks or the BFSI industry or foreign companies till then avoid these laws?
While this has been a topic of debate and everyone has their viewpoints, the sooner banks set up their local data storage and processing facilities, the better equipped they would be to scale and handle new customers. Data storage and processing at such a large scale can only be achieved at a third-party data center. Having said this, building or maintaining captive data centers is both time consuming and a costly affair.
How do banks evaluate their colocation needs?
Latency for financial institutions is of prime importance. A moment lost can cost a bank a fortune. Moreover, with repeated downtimes, banks can lose customers faith and subsequently, their business. At the same time, security and meeting compliance requirements is another criterion that banks must evaluate.
Below we outline the seven factors that a bank should consider before making a move to an MTDC
Uptime Institute (UTI) Tier IV Certification – This certification is the epitome of quality. A UTI Tier IV certification assures you of the highest quality and infrastructure standards aligned with international best practices. Built on the concept of redundancy and reliability, a UTI Tier IV data center operates in case of severe disruptions, providing business continuity for your mission-critical operations. For instance, last year, during cyclone Nisarga, Yotta NM1 functioned without any outage; besides this, it was also operational during the famous Mumbai power outage.

Low-latency connectivity – Always prefer data centers with captive fiber connections. Our data center Yotta NM1 is well connected to the world via two dedicated fiber paths, each coming in from Mumbai-Pune Expressway and Old Mumbai-Pune Highway. All major telecom operators are connected with Yotta NM1, ensuring redundant, low-latency, and fail-safe connectivity.
Security and Compliance – This is one of the most critical aspects. Being regulated by various government and semi-government bodies, banks need to meet their compliance and regulatory requirements. Failure to meet these can result in security compromise and financial losses. Yotta meets critical compliance standards like the PCI: DSS 3, ISO/IEC 27001:2013, OPEN IX-DC OIX-2, ISO 9001:2015, ISO/IEC 20000-1:2018, ISO/IEC 27018:2019, and more. Additionally, it also offers robust physical security with industry firsts like Narcotics and Chemical detector, Authorised Key Management System for racks, and more.
Scalable – It makes no sense to work with a colocation provider that can only meet your current requirements. Your business is here to stay and grow. With this growth, you need scalability at the same site for a more seamless transition in the future. And for this, do not just take our word; we recently were honoured with the Innovation in Scalable Banking Infrastructure Award by The Economic Times.
Growing Storage – As with any business, the storage demand of banks is also growing. Banks are generating new data, thanks to online banking and other e-facilities. These data need to be stored, processed, and analysed reliably and securely. It is these data centers that provide a robust and reliable storage solution for these unstructured data. Besides, the cloud's scalability also makes it easy for banks to access this 24x7x365, irrespective of the circumstances.
Location Advantage – The most ignored factor in selecting the co-location provider. A data center present amidst the commercial and residential hubs is more prone to disruption than a remote location far from the city's hustle-bustle. Simultaneously, especially for International banks, data centers located in SEZ deliver an added advantage in terms of tax benefits, exemption from GST, Forex billing, and more.
Comprehensive services – An added advantage that banks can derive from the co-location partner where they can offer IT management, security, and other cloud-based applications on As-a-Service model. For instance, the latest Reserve Bank of India (Digital Payment Security Controls) directions, 2021, spells out the need for Fraud Risk Management amongst others. At Yotta, we offer Banking Compliance-as-a-Service that includes Anti-Money laundering solution and Reconciliation & Settlement System on cloud, that is scalable and offers complete risk management compliance solution.
Many banks are moving away from captive data centers to third-party co-location providers. The benefits are enormous. At Yotta, thanks to our state-of-the-art infrastructure, like Building Management System (BMS), you can remotely monitor your set-up without stepping out. Besides, in case of urgent deployments or emergency maintenance, teams can utilise our on-premise stay facilities at our comfortable service apartments.
Still not convinced. Schedule a tour of our data center and experience yourself.
SHARE THIS ARTICLE
Related Blogs